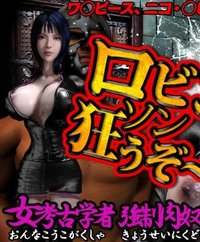 The Madness Of Robin's Own Screwhole – Archaeologiste Coercce Enslavie
Nico Robin is a professional archeologist sent on a mission by her Institute. She travels with the Navy and uses their ship as a transport. One night she finds herself strained by a group of seamen who want to have their way with her. She resists and kicks them all the time so the Navy scientist sedates her.
Original title
ロビンソン狂うぞー 女考古学者強制肉奴隷
First air date
Nov. 28, 2012
Something wrong? Report please.
Episodes
Hentaisea Recommend