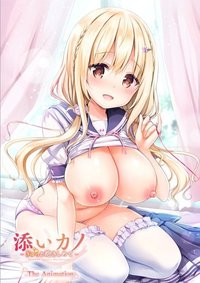 Soi Kano Gyutto Dakishimete The Animation
Based on glamour game by Giga.
Kouhei has lately been watching cravings where he is falling, and it made him chronically sleep-deserted. So, he would take a walk every day around the school grounds for a handy place to take a nap during lunch break.
One day, he visited the rooftop greenhouse for the first-ever time and took a nap there. When he woke up, there was a gal who he didnt know sleeping next to him.
Wah!? Why!?
Nn This, is my, reserved spot
Yoake was a problem child at the school. Why is it that she never appears in class even tho' she comes to the sch
Original title
添いカノ~ぎゅっと抱きしめて~ THE ANIMATION
First air date
Sep. 28, 2018
Episodes