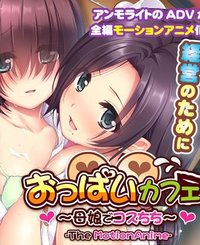 Oppai Café ~oyako De Cos Chichi~
"… supermarket management is average, rather than bad, it's not too bad, is this?"
parent breathes while turning over the book of the family-run coffee supermarket.
The reason for the decrease in customers is that they have been taking guests since they have made maid cafes recently.
"In other words, our store must contest and do costume have fun"
In the mitts of my dad who whips out it by chance, a costume have fun costume …
very naked costumes are opening up out to the front of the family.
"Well, for the sake of management efforts, I can not help lo
Original title
おっぱいカフェ~母娘でコスちち~ The Motion Anime
First air date
Oct. 31, 2018
Episodes