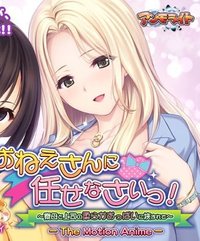 Onee-san Ni Makasenasai!
Employee dormitory where Shingo Inugai of a fresh member of society lives.
There are two very lovely folks out there.
Mr. Nobuno Muno of the dormitory mommy is a sister in law skin that is friendly and reliable.
Mr. Reina living in the next guest room is sensitive, happy ash-blonde spectacular chief.
The fresh life with two people was fulfilling for Shogo!
… but the daily life for Shogo switches even more.
What?
One day a walk is followed by Reina on the next day.
From a hurry to have a relationship of the assets!
"Oh, there is what I
Original title
おねえさんに任せなさいっ! ~寮母と上司の柔らかおっぱいに挟まれて~ The Motion Anime
First air date
Aug. 03, 2018
Episodes