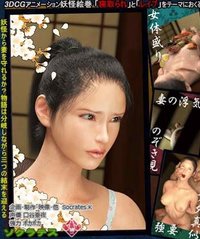 Nurarihyon The Stolen Soul Of The Young Bride
Dusk fell on the blessed duo as they bathed at the lavish scorching spring resort.
Then came back to their bedroom for dinner… where a unusual, ancient tiny dude was waiting.
A Tale of adultery & Rape by an Unwelcome Visitor
The Nurarihyon is a legendary yokai (ghoul) that slinks into homes while the tormentor is away.
slick 3DCG utter cartoon
36 mins of stunning visuals faithfully adapted from the scrolls of Japan's yokai literature.
Original title
支配妖怪ぬらりひょん ~身も心も奪われた若妻~
First air date
Dec. 31, 2013
Episodes