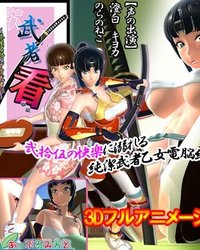 Mushakan – Chaya Meibutsu Wa Kouchuu Mushamusume
An organization aimed at examining and ruining youkai "How to reform mysteriously (Kaitai)".
The warrior daughter-in-law "back leaf" of the organization and the ninja combine for investigation and break and go to a tea building along the highway.
There was a sign board woman in the tea supermarket, it was flourishing with cutting alone.
tho', due to carelessness of the ninja, it is said that the daughter-in-law's identity was actually a boy.
Twin's senior sister in law who was engaged as a sign board when hearing the circumstances is said to be the care of parents.
Original title
武者看 ~茶屋名物は甲冑武者娘~
First air date
Jul. 09, 2011
Episodes