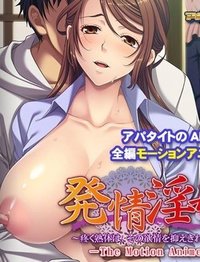 Hatsujou Inbo Uzuku Jukutai wa, Sono Yokujou o Osaekirenai
Takeo Kashima, I was gulping by myself.
On the very first day of the meaty consecutive holidays, I took a child born for the first-ever time and came back from a duo.
Why are you drinking by yourself …
My wifey took her child and pulled it up to her bedroom early.
My parent – in – law tipsy too much and got toasted, taken to mummy – in – law and elevated it to the duo s guest room.
(Also gulping alone … It's bland)
I was urinative and I went to the restroom and attempted to get back to the living guest room …
I realized that the door of my mom
Original title
発情淫母 〜疼く熟体は、その欲情を抑えきれない〜 The Motion Anime
First air date
Jun. 29, 2018
Episodes