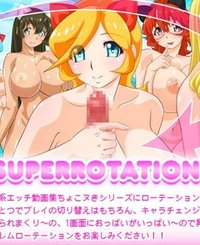 Choco Nuki Super Rotation
Effortless healing series glamour video collection Rotation function displays up in the series!
switching characters with one switch !
love the harem rotation of this circle's leading lady gathering set!
While being seen …
Characters behind Because it is also moving slightly,
so glad that you can be naked to the stepdaughter in front of you while worrying about it !!
Original title
ちょこヌきスーパーローテーション!
First air date
Apr. 30, 2016
Episodes