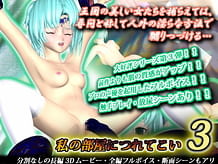 Watashi no heya nitsuretekoi 3
When you capture beautiful women of the kingdom, Bad morale demon who keeps calling questioning and teasing by obscene method outside person.
Princess who severely violated it. The existence of the younger sister who has been given shelter to is smelt out. And sofi of the captured younger sister.
Just like the elder sister. Doing hung on dark basement with golden chain. The energy of the soaking magic is poured even by the wick.
A strong-minded heart of sofi also Demon's art before. The secret of the sword of the legend is finally leaked.
First air date
Mar. 26, 2010
Something wrong? Report please.
Episodes
Hentaisea Recommend