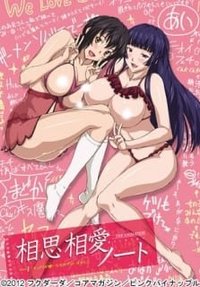 Soushisouai Note The Animation
Based on the manga by Fukudahda.
Asoka Madoka is invited to karaoke by her pals where she is introduced to Miyamoto who she happens to know from before. The two other femmes depart with two other fellows. Then, Asoka and Miyamota make out, rent a love motel, and do what needs to be done.
Ai-chan is a doll who happens to be into a odor fetish who luvs Namikawa. After school, when there is no one around, the two of them have some joy.
Original title
相思相愛ノート THE ANIMATION
First air date
Feb. 22, 2013
Last air date
May. 31, 2013