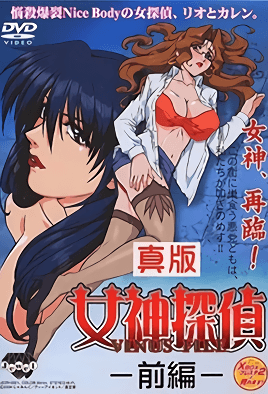 Shin Ban Megami Tantei Vinus File
Masafumi is working to a detective agency with hot investigator Karen and Rio.When this beautiful detective duo takes on a new case involving drugs and fuck as a schoolgirl asking for their help when her friend is drugged and fuck in a salon, it brings back painful memories for Rio whose sister was killed by a gang of sex-starved drug dealers. Could the same gang be responsible for this new threat? The duo investigates the case but Karen become lustful as she saw what kind of person she is investigating. She can't help but to masturbate for what she saw while stalking the suspect. When she saw Masafumi bulging cock while accompanying her to the rooftop. She was tempted to suck it. After that, Karen got kidnapped and fucked by two guys who happens to be the same guy who fucked Rio's sister. Rio must saved Karen and tracked down the suspects and also to avenged her sister's death.
Original title
Magami Tantei - Venus File
First air date
Feb. 26, 2004
Something wrong? Report please.
Hentai Games