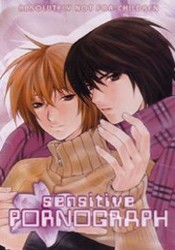 Sensitive Pornograph
Featuring two short stories, the first is about two manga writers/artists with a ten year age difference, Seiji Yamada and Sono Hanasaki and their intimate love life and problems. The second story is about the strange incidents that happen to pet-sitter Ueno when he goes to take care of a pet rabbit named Aki, who he finds out is actually a human man.
This consists of two Short Stories. Two male Mangaka are getting to know, love and addicted to each other. And a petsitter is taking care of a rabbit – in human form. The rabbit then declines his original master and wants to be with the petsitter.
First air date
Dec. 20, 2004
Something wrong? Report please.
Episodes
Hentaisea Recommend