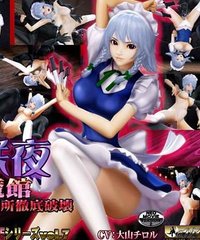 Scarlet Devil Mansion Restraint Sakuya
Sakuya Izayoi ( Touhou Project ) parody!
Night of the total moon.
A sexy dame who despairingly stops the mighty Vampire troops who break in the village.
Flandol request a ferocious service to test how much loyal maid of helluva vampire hunters can suffer bearing
kicks, captured by a lash and spiky with a flog!.
—
Original title
コノハナ咲夜-拘束紅魔館-
First air date
Jan. 31, 2013
Episodes